Bike On Bear
Read More...
Picture Book, (Aladdin, Simon & Schuster, ages 4-7)
Bear can do anything he puts his mind to—except ride a bike.
Download the discussion guide for Bike On, Bear!
School Library Journal 
K-Gr 2—"Bear is no ordinary cub" begins this writerly story replete with puns, a sound narrative structure, and funny moments that will make kids cheer the protagonist along. His flaw is stage center: he can't ride a bike. He aces school, especially mathematics, has a helpful nature, and is a budding gymnast, but for him, biking is "unbearable." He questions whether it is a lack of intelligence, or a lack of confidence. His mother sends him to the library because you can "learn anything there," and he finds a how-to book. When a young goat is getting carried away by a fierce costal wind, Bear finds the opportunity to put all his knowledge of science, math, and gymnastics into one tour-de-force to save the kid in danger. There is a small-town sensibility here, yet with a background of historic buildings and the connotation of a city, there is depth to the sense of place. The palette is exquisite, with pale oranges and aqua blues, with added retro touches of background textures such as graph paper. The cartoon-style illustrations are gentle in nature and detailed enough to interest readers. VERDICT Fans of Kate DiCamillo will enjoy this book that encourages students to become well-rounded, and demonstrates how athletic, social, and academic skills can be applied in unexpected ways.—Sara Lissa Paulson, The American Sign Language and English Lower School, New York City
Kirkus Reviews
Bear can do anything he puts his mind to—except ride a bike.Bear is a whiz at facts and figures. He can do a backward pike somersault on the balance beam. But every time he tries to ride his bike, even with training wheels, he falls or crashes. Bear just can't do it. The situation worsens when a park opens in town, and Bear can't join his friends on the new bike path, which arbitrarily and unkindly bans training wheels. (This is helpful to the plot, though.) Everyone is having fun without him. So Bear does what any desperate, lumpy little fellow like him should do—he goes to the library in search of answers. A book tells him how to ride a bike in four easy steps. The last step is the most important: don't think about it too much. But Bear can't stop thinking about it. He mulls it over and worries until everything becomes a disaster, even his triple back-paw-spring. Luckily, a sudden meteorological disaster (sharp readers will spot a hint in Koala's newspaper) helps Bear spring into action and overcome his fears—without stopping to think! Bear's supportive friends and family, along with Litten's warm-hued, cozy illustrations, drape the story in comfort, even during Bear's many tumbles and spills. This pivotal childhood milestone is often defined by fear, but this variant is for young brooders everywhere. (Picture book. 4-7)
The Horn Book
Bear has many talents; riding a bike isn't among them. He reads up on riding and otherwise obsesses, but ultimately it's his heart, not his intellect, that comes through when he must ride a bike to save a young goat. Anxious kids will appreciate the book's don't-overthink-it message, plus there's a wealth of visual texture (a checklist, a graph) within. –Horn Book Guide Reviews 2015 Fall
Wooby & Peep
Read More...
Picture Book, (Sterling, ages 4-8)
Opposites attract and become fast friends in this quirky, funny picture book.  Wooby lives in a nice, quiet neighborhood where everyone minds his own business. And he likes it that way. Then noisy, energetic Peep moves next door with her banging and smashing and crashing. She even gives a "wild" PARTY! At first, shy Wooby is beside himself—until he realizes that he and Peep have more in common than he ever imagined. Hilarious comic-book panels throughout add fun and joy to this unique story.
Kirkus Reviews
After an inauspicious start, two very different characters find common ground and friendship…surprisingly affectionate, both in the text and through Peterson's artwork, with its washed pinks and soft blues and simple, expressive line. It is also worthy that Wooby can see past his stick-in-the-mud existence and Peep's bumbling to find something of real value. Friendship is where you find it, and as this book demonstrates, sometimes it's under the most unlikely of rocks.
Amazon reviewer
Wooby & Peep is SERIOUSLY cute, and has quickly become the daily must-read at our house (6 year old loves it, and so do our 3 and 5 year old friends). This is going to be my new favorite birthday gift for children I know. The book has humor both the kids and grown-ups appreciate, and the pictures are beautifully, colorfully adorable! —Jenna, Amazon reviewer
I TOOK THE DARE
Read More...
Children's Non-Fiction, (Pivotal Publishing)
Inspired by a social experiment/writing contest created by children's book author Cynthea Liu, eighteen young writers in grades 2-7 take a dare to better themselves for seven days, then write about it. The stories range from the warm to the wise to the sublimely hilarious. In this wonderfully charming and inspiring anthology, readers get a glimpse into tween minds as they struggle with issues like sibling rivalry, self-esteem, bullying, friendship, and many more. For educators, this little book serves as a great jumping off point for character education or units concerning the personal essay. Not only will students relate to the stories, they'll walk away inspired to write with the beautiful voices they already possess. Maybe they'll even think of their own dares and write about it. Information on how young writers can be included in future volumes of this anthology is also provided.
The Great Call of China
Read More...
Young Adult
THE GREAT CALL OF CHINA is a NoveList Best and Grab-and-Go title!
In THE GREAT CALL OF CHINA (ages 12+) for Speak's S.A.S.S (Students Across the Seven Seas) series, Cece Charles is a sixteen-year-old adopted Chinese girl living in the States. With a passion for anthropology, Cece travels to China to study abroad, have a little fun, and most of all, connect with her past. In THE GREAT CALL, Cynthea explores cultural identity from the viewpoint of an adopted teen.
Children's Literature
Sixteen-year-old Cece was born in China and lived in an orphanage until she was adopted by her American parents at the age of two. Now, against her mother's wishes, she wonders about her roots and birthparents…Cece finds she must dig further into the facts and into herself to face her inner fears and find out her identity. While this book is mostly to provide entertaining armchair travel for girls, it also carries somewhat deeper themes of developing courage and knowing yourself.— Myrna Dee Marler, Children's Literature
Amazon reviewer
I thoroughly enjoyed this book from cover to cover. I've had the chance to live in China for a time and visit many of the places Cece travels to, and I found the story to be very accurate and vividly described. Cece and her friends are well-rounded characters who are smart and interesting—very refreshing when compared to many of the mean-spirited or gossip-oriented books available today. I intend to give this book as gifts to friends with 11- to 14-year-old daughters. —D. Avery, Amazon reviewer
Paris Pan Takes the Dare
Read More...
Middle Grade, (G.P. Putnam's Son's)
Scholastic Book Clubs selection
Oklahoma Book Award Finalist
Texas Lone Star Reading List Nominee
APALA selection
So what if it's a rite of passage for every seventh grade girl in town to spend a night in the woods? Paris Pan only just moved here, the woods are super creepy, and she has enough weirdness to deal with in her own family. Finding out a girl died mysteriously years ago while on the Dare—right near Paris's new house, no less—is bad enough, but the unmistakably ghostlike noises coming out of the broken-down shed at the edge of the Pan's property? Definite deal breaker. All Paris wants is to make friends, try to fit in, and not have to deal with a dead girl. But everyone has to take the Dare, and the new girl's turn is up . . . .
"I love Paris Pan takes the Dare so much I have  read it five times. Cynthea Liu, you are awesome, you write the best books in the world. I think Paris Pan takes the Dare is the best! Your number one fan, Hanna"
"I got my copy of Paris Pan last night and started reading it to my daughter. We're going to do one chapter a night as our bedtime reading. It's really easy to read out loud, too. We're enjoying it!" – Charity Tahmaseb, Parent
"My 7-year-old has been reading Paris at bedtime, under the covers and wearing one of those forehead flashlights."  – Parent
"I bought two copies and gave one to [daughter's] best friend…Meanwhile, they are reading (without being pushed) a chapter a night to each other on ichat! They are so cute. Then they discuss the chapter and are LOVING the book." – Flora, Parent
"Oh, I loved it! I finished it in one sitting tonight! Paris is a hoot!" – Kathleen, Bookseller
"I loved it too! I'm really looking forward to you visiting our school! I know the kids will really enjoy it!" – Courtney, Teacher
"Read it in less than a day, loved it! Grab a copy and take the dare!" – Catherine, Writer
"Just wanted to let you know how much I enjoyed the book. I stayed up past my bedtime last night reading and then finished it over breakfast this morning, making myself late for work!" – Roxanne, Writer
Writing For Children & Teens
Read More...
Adult Non-Fiction
WRITING FOR CHILDREN AND TEENS is Cynthea's answer to finding out everything a writer needs to know about writing for children and teens in a simple, step-by-step guide. Within each step, writers will find clear and specific information covering topics such as the children's book market, manuscript format, revision tips, finding the right agent or publisher, submission etiquette, and common faux pas to avoid. Bonus materials include templates for all of one's submission needs as well as examples of real-life editorial letters sent to authors from editors today.
Look on Amazon for the book covers:
And other forthcoming works with Disney Press and Random House Disney.
Cynthea is also the ghostwriter behind a bestselling chapter book title from Random House Disney, and her titles have been translated into multiple languages, including German, Korean, and Chinese.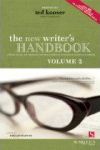 Cynthea is also a contributor to THE NEW WRITER'S HANDBOOK, Volume 2, A Practical Anthology of Best Advice for Your Craft and Career, along with notables such as Ira Glass from NPR and Lowis Lowry.  Edited by Philip Martin.